CaseBuilder.com is a combination of webshop with configurator and automated workflow. Clients can put together a flightcase themselves in the online configurator and order it online. Subsequently, the order is picked up fully automatically and processed in the production process. The Total workflow is automated and because of this, CaseBuilder.com can produce on demand and deliver quicker and cheaper than the traditional case builders. The delivery of a fully personalised flightcase within five days is unique in Europe The flightcases are of high quality and only the best and long lasting materials are used in the process. The flightcase parts are bought at the renowned production company Penn Elcom.

The idea of Casebuilder.com was created in the production company ProFlite (Doesburg). For more information, please see www.proflite.nl.

The internet strategy, webshop realisation and online campaigns are placed with internet bureau Trimm.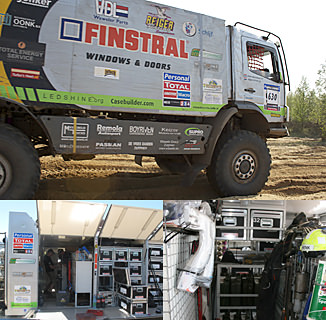 CaseBuilder.com is sponsoring the Rally team Finstral with Team captain Johan Elfrink, which is annually participating with four race trucks in the international Dakar Rally. The team uses the flightcases of CaseBuilder.com for storage of parts and tools. The flightcases are subjected to the ultimate test in the rough stages of the Dakar Rally and also appear to be heavy duty and desert proof in practice.

Please send questions, suggestions or remarks to marketing@casebuilder.com.